So Close... And Yet... So Far Away!
Limited traffic access is a common problem with many venues,
especially "permanent temporary" (seasonal) sites as is the TC.
Post 9-11, access options should be of concern and maintained.
A valuable emergency right of way is no longer viable at the TC.
"So Close"

DARYL HALL / JOHN OATES

#11 Hit for 1 Week -- Top 40 for 9 Weeks

First charted 10/20/90

Co-produced by Jon Bon Jovi

"So Far Away"

CAROLE KING

#14 Hit for 1 Week -- Top 40 for 9 Weeks

First charted 09/04/71

James Taylor on Acoustic Guitar
Post 9-11, traffic congestion that was once just an annoyance is now a concern... or at least it should be for high visibility targets, of which the Tweeter Center qualitifies.
There are two entrances/exits from the Tweeter Center; The Main Entrance --which might handle four vehicles abreast in calm moments, and a Side Entrance. Both could be blocked on purpose or by accident, especially the limited Side Entrance.
In 2002, The Tweeter Center created a premium priced parking lot which is to the left on the Main Entrance drive; the lot starts about half way from the venue amphitheater gates.
From Rte. 140, there is land infront of this lot:
The Bad News... is that a building has been erected on this parcel with more development possible in front of this building.
Backup Access: So Close...and yet...So Far Away!
TC's Main Drive Just Beyond Fence -- Private Drive In Lower Rt Corner
The Worse News... is that the grades between the Tweeter Center's premium parking lot and the building's parking lot were not graded, but tiered with the blocks.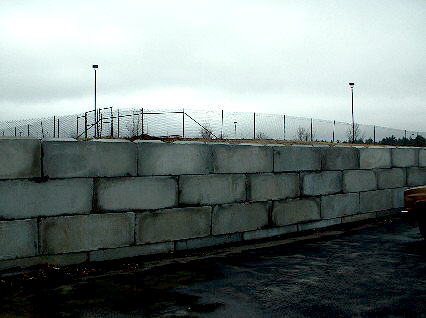 Blocks Provide Grade Retention Tier Between TC & Contractor's Lots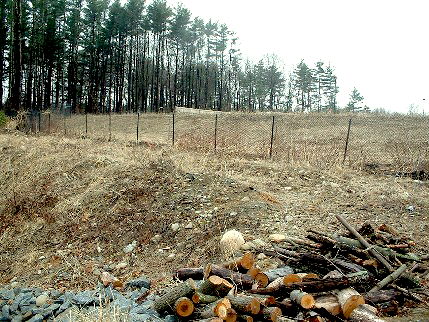 TC Premium Parking Lot Begins Above Grass Ridge
The Worst News... is that a retention / detention pond apparently was required by the Town of Mansfield... this depression also being depressing as it blocks off any safety valve for a rapid ingress or egress.
This Is "High Tide" -- Excess Space Could Provide An Emergency Right-of-Way Exit
Frankly, we need not ponder the relative merits of this retention pond which holds back more vehicles than water! An emergency right-of-way could be created with a smaller pond, a realistic step as these pictures were taken at the very height of the Spring rains in 2004.
"Great Storms Announce Themselves With A Gentle Breeze"