Important Closing Remarks
Most people who attend Tweeter Center concerts are there to have a great time... and they do.
This report is not about them... at least in their relaxed state.
This report is also about people in "un-relaxed states" of being... when they are fighting mad! Afterall, instead of writing this report, I COULD HAVE OPTED TO PUMMEL THE JERKS who were pissing and playing with themselves... especially if I thought that their actions offended / insulted me, or another person such as a friend, spouse, parent, or the younger people in the school bus ahead of me.
IN A FLASH... CHAOS WOULD HAVE PREVAILED
as crowds, alcohol, antagonists and protangonists came together. As there was no one arresting this behavior, which reoccurred until the crowd entered the Center for the actual Crows' concert, one has to think about how many potential similar events were happening in other parking areas. Tangentially related, while researching this report, I learned of other parking lot incidents, at different times, which did end in fights... serious fights.
Potentially, every night is "Prom Night" at the Tweeter Center...
And, the same idiots that ruin the fun of proms,
road-trip into The Center to threaten
a decent venue and event.
CLICK FOR STORY
So I say...
" MORE POLICE DETAILS "
The police that are there, do a great job... more are needed.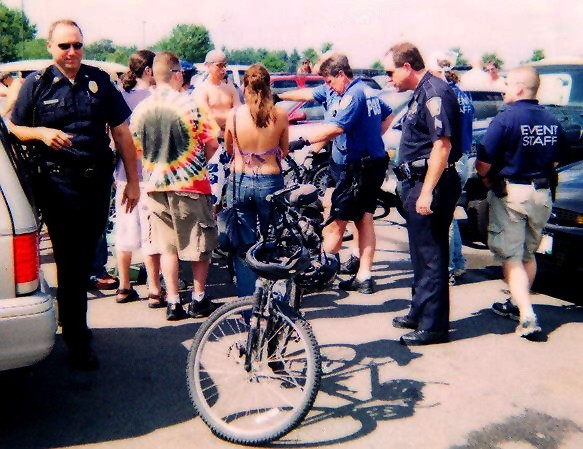 Arrest Being Made
There is a Ying and a Yang to the operation of the Tweeter Center Parking Lot. In a given season, the Center hosts shows from "bubble-gum" to "hard-rockin" music and groups. In essence, each concert brings a different crowd. Police Chief O'Neill knows this and staffs details accordingly. I have no argument with this flexibility, just with the numbers involved.
Having watched several arrests, I can relate that an arrest consumes several detail officers, Center security personnel, and time during which these people are not available for other patrol.
I also say
"MORE & ALWAYS VISIBLE FIRE DETAILS"
There is no Ying and a Yang to fire. Fire is an equal opportunity danger and potential killer. Unlike human offenders with whom rationale usually works, there is no soft approach that works with fire. Every encounter is a fight... and thus the term, "firefighter!" Visible fire details work in three respects; as 1) assurance 2) a reminder of the need for caution... and most importantly, 3) the immediate first reponder/authority to command the crowd and suppression until Engine Cos. / Lieutenant / Deputy Chiefs / Chiefs / etc arrive, if called. The party-going patron's "second guessing" the need to call for help, whether out of embarrassment, bravado, or ignorance, is a prelude to a more serious fire problem.
I DON'T KNOW THE ECONOMICS OF CONCERT PRODUCTION...
BUT 20,000 ATTENDEES AT AN AVERAGE TICKET OF $50 EQUALS $1,000,000.
ASSUMING $250/DETAIL, 20 MORE DETAILS IS A MINOR INVESTMENT
IN RETURN FOR FAR GREATER CONTROL AND SAFETY.
Finally... every police officer, fire fighter and Tweeter Center security / parking attendant with whom I interacted in any way was friendly and respectful. And, considering the absurd road resources with which the police officers work, I believe that they do a remarkable job spiriting the traffic along.
While it is recognized that this site could be viewed as negative, inflammatory... or even as "Chicken Little," forecasting gloom, it is not meant to be. It is merely what has been observed, chronicled, and represented in public pictures. There is no definition of "is" here. What "is" has been tangibly represented.
Perhaps, as a final argument, one could state that I don't understand all of the complicating factors which keep all the "Status/es Quo." I'm certain that I don't!
But, in the final analysis, my ignorance doesn't affect the status quo;
IT IS WHAT IT IS... AND, THIS REPORT REPRESENTS MY VIEW OF IT!