The Tragic Irony Of It All...

A TV News Crew Caught The Inside Pictures Because...

They Were Doing A Segment On Club Safety!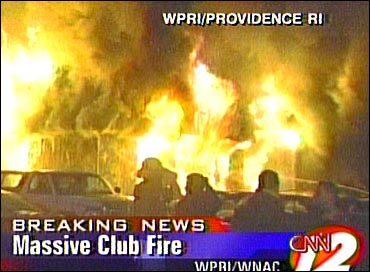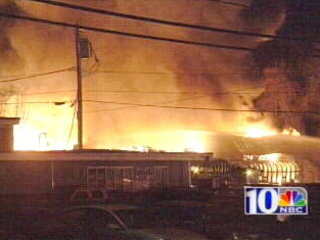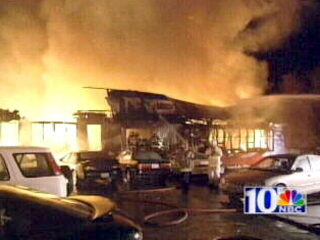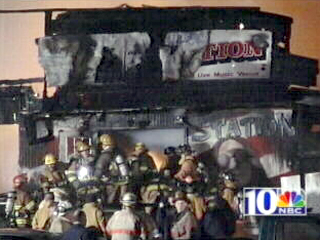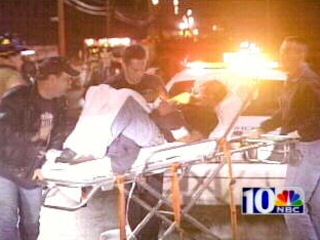 To Follow Timeline, View Down First Column... Then The Second


"Flash Pots" Ignite



Fire Starts... Guitarist Looks On



Flames Grow... Leader, Jack Russell, Unaware



Guitarist Observes Flames



Guitarist Alarmed... THIS ISN'T THE PYRO SHOW!



Finally Aware, Crowd Starts To Exit



Front Exit Is Restricted... Heat & Smoke Follow



Bodies Fall... People Climb Over Them



RAILING SHOULD BE ILLEGAL... It Blocks Rescue!



Within Minutes All Hope Is Gone For The People Inside. Their Fate Is Seared By Flames & Smoke



Region Responds As Fire's Magniude Gets Known



Firefighters Remove A Victim From The Fire



Fire Chaplain Consoles A Survivor



Regional Hospitals On Full Alert Accept Victims



Worst Comes In AM... Remains Found Stacked



Body Counts Soar: 20, then 47, then 75, & then...



Picture This: Expected Fun, Unexpected Sadness



Concert Goers Return, Friends And Family Come... A Memorial Is Born



Days later: Buses Bring Survivors/Families To Site
CLICK
Providence Journal Updates
Excellent Tribute
All pictures are copyrighted by their owners. None are the property of Venues and Events / John Sottile.
The picture file names are for our site construction convenience, not in any way to confuse ownership.
Therefore, a special thanks to Providence TV stations 10 & 12, AP, Tom Landers/Boston Globe and others.