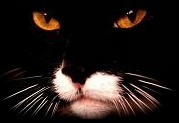 The Minx Factor
Perhaps Hope for the Future Treatment
of Mental Illness

Today, her name is "Minx," after her mink-like fur... but she started life nick-named "Monkey" after her prominent, round head and monkey-like eyes. During her very young kitten stage, other than her cuter-than-normal appearance, she seemed normal. As other kittens developed, Minx held her ground with her peers. However, she did not do some of the same things as others did. Most importantly, she did not climb the fencing which separates the communes. No problem, I thought... not all kittens develop in the same way, or at the same pace.
I first considered that she was different when I placed her on the fence to climb. With coaxing she did; except, when she got to the ceiling she kept attempting to climb. Further, she had no skill in backing down; I had to remove her from the fence. From this observation, plus fast-forwarding others over time, it became apparent that Minx was blind in one eye and basically -- but not totally -- blind in the other which is slightly cast. Still, she hung in with her peers.
Since Minx lived in the cattery, my observations of her were not as constant as they would have be had she been raised "under-foot." Nonetheless, on occasions, I observed that Minx would literally lay on her side and mentally "disappear" -- so much so I would beggingly question... "Minx, you're not dying on me, are you?" She would defecate, but otherwise not move. She would then snap out of it... and start eating as if the event had not happened.
This passive zoning-out soon evolved into "apparent" fits. Again, I say "apparent" because she was among other cats and at first it was not certain whether I was just observing a basically blind cat flailing in a wild fury to fend off others.
However, this behavior evolved further until it was clear that Minx was either having a post traumatic shock experience from perhaps fights in the cattery (the fits normally started from a deep sleep... and her behavior seemed that of fighting) ... or having a seizure.
Whatever the etiolology, after more indications of her disadvantage with her peers, for Minx's protection, I decided to bring her permanently into the house where there are no other animals. House-living was the program's first and only, but necessary. As Minx matured into estrus, her mode swings became more polar.
Out of her familiar environment and now literally "under-foot" as her new living area was next to my office and her carrier was next to my computer where she kepts me company most of the day, I was able to observe other deficiencies.
1. She hears and startles at sound, but she cannot locate the sound.
2. She does not use a cat box (thus the mystery of the messy cattery floor was solved)
3. Her seizure become more intense just before she would enter a heat period.
4. AND MOST IMPORTANTLY... MINX HAS TWO TOTALLY DIFFERENT PERSONALITIES.
The difference of which I speak in Point 4 has nothing to do with the normally increased affection which females show in heat. THIS DIFFERENCE IS RADICAL.
SIMPLY STATED MINX IS SCHZNOID. When in heat she is lovable, but not a screamer; just a typical cuddly cat. When she exits her heat period, she becomes vicious, mentally distant, detached from my presence, and frankly untouchable in the sense that it appears to physically irritate her.
Clearly -- or so it seemed to me -- Minx's estrogen levels determined which Minx I would have.
From this observation and having a few relatives with bi-polar conditions, who also withdrew in down periods, I researched the effect of estrogen on bi-polar. The research results were unimpressive. In fact, the overall tenor seems that the jury is out... and research regarding the use of estrogen (or testosterone for males) as a treatment for bi-polar is accidental.
NONETHELESS, BASED ON MINX'S BEHAVIOR, I HYPOTHESIED THAT PERHAPS MENTAL DISORDERS ARE MIS-TREATED WITH PSYCHOPHARMACOLOGAL DRUGS WHEN THE UNDERLYING CAUSAL AGENT WAS HORMONAL... ESTROGEN !
Further, the seizures continue whether in heat or out. Yet again, due to the difference in seizure intensity just before entering a heat period, I researched estrogen with epilepsy and still came away with the mixed medical opinion, though there is credence given to the varying severity of seizures during different times in a woman's cycle.
Then, I came across studies in the use of estrogen to combat schizophrenic behavior in women. BINGO! My mistake was searching on the wrong "keywords." More is written about more studies with more correlations. Notwithstanding, there appears not to be a preponderence of opinion regarding this regimen.
So, what is the big Minx breakthrough?
Today, I am convinced that Minx, despite all her problems, offers hope for future treatments of estrogen mental illnesses.
AS OPPOSED TO HUMANS, WHETHER THEY ARE ON PLACEBOS, OR NOT, AND REGARDLESS WHETHER THEY ARE IN DOUBLE-BLIND STUDIES OR NOT, HUMANS, UNDERSTAND TREATMENT... AND THEIR UNDERSTANDING CAN -- AND HISTORICALLY -- HAS TAINTED IN A PSYCHOSOMATIC WAYS THE PURITY OF THE STUDY'S OUTCOME.
IN THIS RESPECT ANIMALS ARE PURE.
THEY DO NOT HAVE THIS INTELLECTUAL ABILITY TO UNDERSTAND THE STUDY AND / OR EVEN IN A MINOR WAY TO ALTER THEIR BEHAVIOR OTHER THAN TO ATTEMPT AVOIDING THE TREATMENT SUCH AS CATS WHEN THEY LOCK-DOWN THEIR JAWS AND SCRATCH.
All humans are somewhat like a person who has been drinking up-to and just beyond "social" blood alcohol levels (.04)... When challenged, though "socially inebriated" they still have enough mentality to "sober-up" for the conversation, panic, or test. This is because in the short-term they can mentally override the physical impairment cause by the alcohol. Of course this compensatory behavior disappears at the blood levels rise.
To skeptics who question any of the above... I offer that were the Minx Factor so widely accepted, there would be more experimentation in the use of estrogen to treat mental disorders.
I am so convinced of the estrogen correlation that were I limited to one procedure and "forced" to choose between either euthanasia or spraying Minx, I would choose euthanasia, for were Minx to be neutered, her life would be condemned to that of vicious cat left to be shuttled between homes, or abandoned and later euthanized by a shelter.
Neutering would kill the adorable Minx
The challenge -- and overall medical opportunity -- is to determine if her heat personality can be maintained through estrogen, for she is certainly not frustrated by being over-sexed during this period -- a fact which may further indicate her having a lower than normal estrogen level to start, which deficiency causes the non-heat viciousness.
The above was written in 2008.
TODAY MINX IS IN WITH THREE OTHER CATS WHOM I CALL "MISFIT." These are all female cats that have been rejected by other female compounds
As opposed to veterinary literature which promotes the use drugs to control seizures, Minx was never given any. Though her early-year fits were violent, I saw no purpose in having a drugged up cat. It would be better to put her to her final rest.
In Catanamo 2, Minx was no longer with me, but remained segregated from the other female cats. At Catanamo 3 she was initally segregated from the other cats in the "Misfit" compound. She was just on another side of a fenced- in area.
Then one day, I found her out of her areas in with the "misfits" Having never had a cat break-out of containment, I questioned both her possible escape through pushing the door, or my lapse. She was placed back in her space. This time I was certain that she was "locked-in." WRONG! A day later, she was back out. What could I do but leave her out where she somehow decided to be. No, she was not cuddling with the other cats; she was alone as she had become when she was first separated. She was just as angry if other cats came near here.
And, YES, she still had seizures, though milder.
Today, MINX is as adorably irrascible as ever. Her personality can turn in a blink from loving to fighting, but her anger subsides in seconds. Yes, she is still blind, still refuses to use anything that resembles a cat box or even woodchips, still does not climb, still fights off the other cats who venture too close to her, but she is one -- perhaps the one -- cat that I would take back into the home. However, she would have to be in her own area due to aversion to cat boxes. Finally, her seizures have waned to very few and mild. I have been able to 'distract" her out of them now and then when I am around her as they start which is usually indicated by a hyper-alertness and quick turning of her head as if she is having a flashback from her kitten fighting day as she then tried to defend herself while being blind.
*****
So, after years of breeding... desiring to obtain a genetic outcome... I stumble on this remarkable mistake, Minx, who may NATURALLY further insight to science.
While I could go further, I wish to wrap-up this page with this: One often hears that special needs children provide a special gift to a family. Indeed this is Minx. Within her "room" covered papers over plastic, she poops and pees at will, she steps in her water, over turns the feed bowl despite its flat bottom due to blindness... looks in the wrong direction when called, refuses to be touched in her Sybille phase and yet is the best cat in the world when she is Minx. She is a delight.
She may also be the hope for continuing research in the use of hormones to treat mental illness.
One has to "love" the randomness of scientific discovery, despite all attempts to discipline its happening.